You Name It is a premier printing company offering an extensive array of products and services tailored to meet the needs of schools, businesses, restaurants, individuals, and non-profit organizations. From badges and stickers to stamps, we have a diverse range of offerings to cater to your requirements.
​
At You Name It, we take great pride in our commitment to delivering name badges that align precisely with our clients' specifications. Your satisfaction is of utmost importance to us, and we strive to ensure that every badge is nothing short of perfect. We are excited to collaborate with you in crafting the ideal name badges that will exceed your expectations.
Take a moment to explore our portfolio, featuring examples of our work, and gain inspiration for your own personalised creations. We await the opportunity to work with you in crafting the perfect name badges.
Shield Badge
This badge can be crafted from either metal or rowmark, giving you the flexibility to choose the material that best suits your needs. With our advanced cutting technology, we can create the Shield Badge in any shape to suite your school or brand.
Sports Representative
Scroll badges for schools and to recognise sporting excellence
Multi fit Badges
Multi-fit badges, available in gold, silver, white, or black, are ideal for companies seeking convenience and efficiency. With a smart design that allows for easy insertion of individual names, these badges make it a breeze to manage your inventory and keep spares readily available.
Key Tags
Versatile Key Tags, designed to meet the needs of various industries including Air bnbs, hotels, car rentals, and even golf bags. These compact and functional tags are the ideal solution for organising and identifying keys with ease.
Personalised Stamps
A variety of sizes and colours. We also have date stamps and clothing stamps available
Name Badges
Our name badges are available in a variety of colors, shapes, and materials, allowing you to choose the option that best aligns with your brand identity.
Domed Stickers
Domed stickers for use on products, for weddings and school stationary.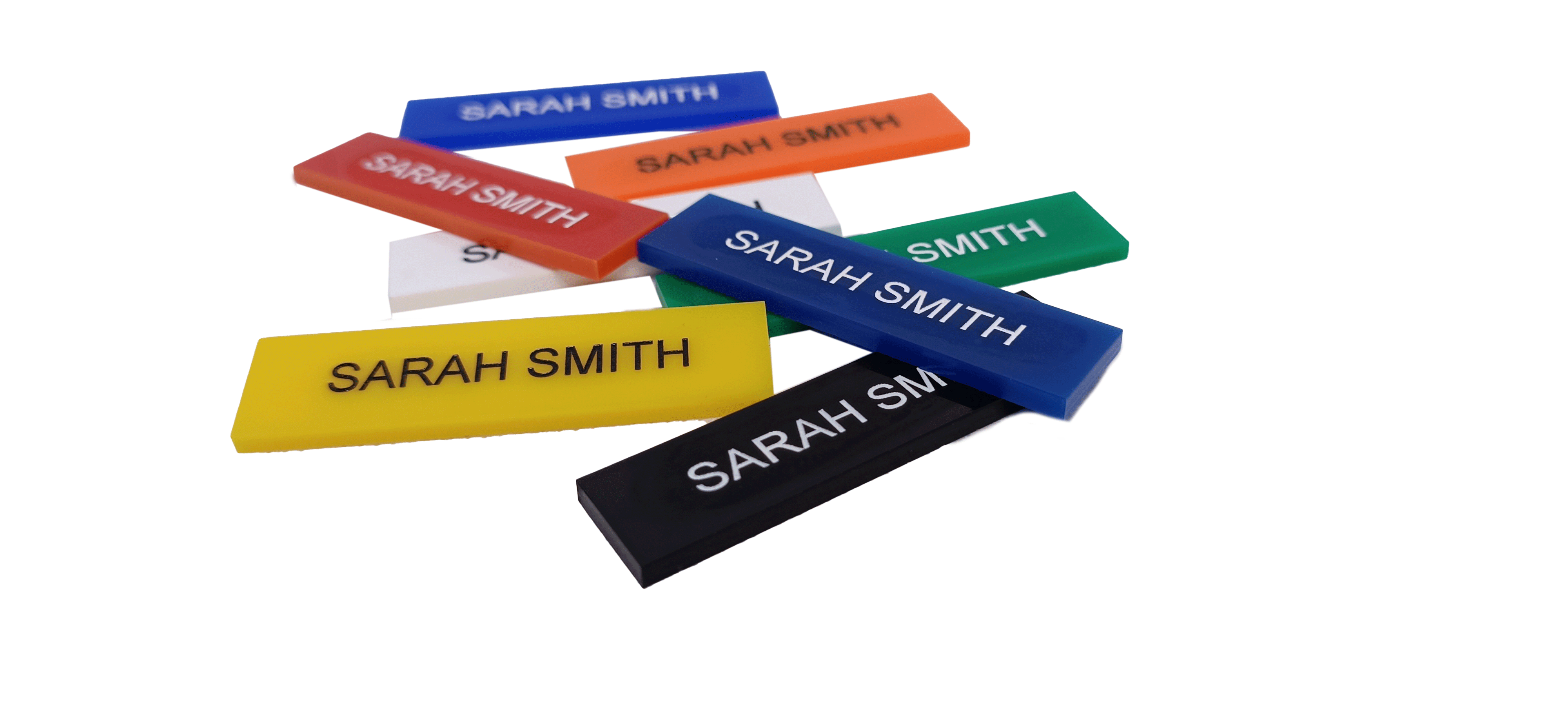 Perspex Name Badges
These are often seen in schools. Contact us for a quote on your schools needs.
We offer a wide range of school badges to cater to various roles and achievements. Our selection includes prefect badges, ambassador badges, pupil name badges, and staff name badges. Additionally, we offer badges to recognise academic accomplishments and sport scrolls to celebrate sporting achievements.
​
When it comes to materials, we provide options such as metal, perspex, and printed badges. Metal badges offer a classic and durable option, while perspex badges provide a sleek and modern look. Our printed badges allow for vibrant designs and customization.